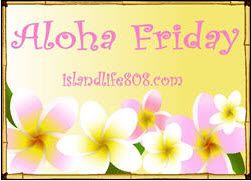 Welcome to this week's edition of Aloha Friday.

In Hawaii, Aloha Friday is the day that we take it easy and look forward to the weekend. So I thought that on Fridays I would take it easy on posting, too. Therefore, I'll ask a simple question for you to answer. Nothing that requires a lengthy response.

If you'd like to participate, just post your own question on your blog and leave your link over at
Island Life
. Don't forget to visit the other participants! It's a great way to make new bloggy friends!
This week's question is:

We put our Christmas presents under the tree starting the day after Thanksgiving...why? Becuase that's what my mom always did. I was never one of those kids that looks at the presents before the big day.

We have heard that people actually put the presents under the tree on late Christmas Eve...and I thought about it and think that would be fun, but wanted to hear why people do it that way and the pros and cons of it.

Merry Christmas!

For more Aloha Fridays...make your holly jolly way over to
Island Life
.