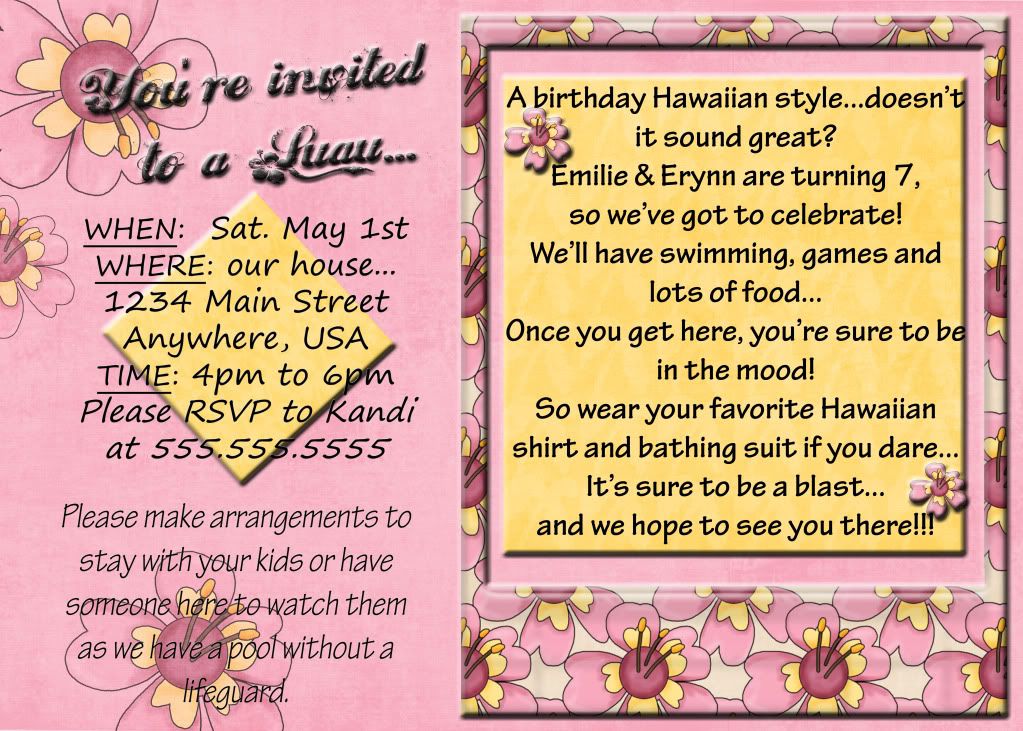 Party planning is a passion of mine...any excuse to have a party and I'll take it. I have always thrown REALLY big birthday parties for my twins
(I actually believe that is a reason that God gave me twins because throwing huge parties for one child would be considered "overboard". LOL)
This year we decided that we were not going to go "all out".
That was a great thought...in theory...but how do you take a party planning crazy like me and make me go small...apparently it doesn't happen.
So the birthday party is Saturday, May 1st and I just had their invitations printed and are delivering them this week to their friends at school, softball, church, etc. The invitations did turn out cute...considering I have never used photoshop to make their invites before...BUT GET THIS...I made the invitations, sent them to the photo shop at the closest Costco to us...uploaded them via
http://www.costco.com/
photo link...and they printed them out for 13 cents per invite! WHAT???? We had 70 invitations made (cuz I'm going easy this year
yeah right
) and they were only $9.75.
Above is a look at what the invite looks like....(well with a few modifications of the address, etc. being it's on the internet at all)...I didn't find very much out there in cyber world as far as digital scrapbook kits for Hawaiian Themes or Luau Themes...But this was as good as I could do with what I had. I created it in Photoshop and for all of you out there who are Photoshop Pro's...I am far from it. This was my first. I did create the header on my blog...but that was a little different than having to put it in a form that I could print off and still have it look good.
So as much as I thought I was going to "go small"...apparently not. The list is done and the invites are out...72 kids are invited, 41 adults...and that's not counting that I put on the invite that all the kids have to come with someone or have someone here watching them as we have a pool without a life guard. So you have to double the 72...which turns to 144. Now going off of the old...50% flake factor....we are going to figure that 144+41= 185 divided by 2 = around 36 adults and around 56 adults...so we're looking at a total of about 92 people...now that's if only half show up!! LMAO
Well for a party planner...this is what it's all about...the kids, the fun, and the experience. Why size it down anyway, right?
Can't wait to show you guys pictures from the party!
Any suggestions you have are greatly welcome!