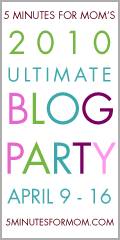 ***I will be leaving this post up for the week of the blog party...then it'll be back to the usual.***
This is my first time participating in the Ultimate Blog Party!
The party continues from April 9th thru April 16th, so you still have plenty of time to join us!
The idea of the Ultimate Blog Party (UBP) is to create a post that describes you and you link it up on the main UBP post over at
Five Minutes for Moms
so that others can stop by and visit you! It is a great way to meet new friends in the blogosphere!
Okay, now that that is taken care of, time to tell you about me!
I am a wife to my high school sweetheart, the youngest child of 5 kids, mom of identical twin girls, work at home mom, and animal lover to the core!
We have two boxers...an albino boxer named Martini and a brindle boxer named Tyson. Those two dogs have a better life than most kids.
We live in Northern, CA...where I was born and raised. I went to college in Ashland, OR and then moved back to my hometown to raise a family. It's a beautiful small town community and we love it!
I lost my voice when I was 29 (now I'm 33) after I caught a cold...and never got my voice back. So I have a permanently raspy voice...ughh!
I LOVE party planning...and being blessed with twins I believe is a reason to have a HUGE birthday party every year...we have pulled off some really good ones. My favorite was their 5 yr old birthday...it was a Carnival...and I do everything super inexpensive as I know a lot of people with a lot of talents. *wink *wink We had a magician (who also did balloon animals...bonus!), cotton candy machine, face painting, all the carnival booths, etc. It was awesome! The girls loved it!

See picture to the left...the yard of our old house before the kids arrived
We are in the process of planning their party for this year which is on the 29th of this month when they will be 7 yrs old. We are doing a Luau! I can't wait...I'll post pictures directly following the party for sure. :)
I watch little to NO TV...NO NEWS...there are times when I watch a program with my husband...usually "Modern Family" which is a friggin hilarious! Why? Because I believe the filter of news is so negative and there is SO much good that goes on out there. I am committed to making so much good out there and I believe that what you put into yourself is what you are going to put out...for example, garbage (like news) in, garbage out...good in, good out!
I love animals, love to travel, love scrapbooking and crafts and love to read.
I work from home and feel blessed every single day to be able to be a room mom to my twin girls, I'm in charge of my own schedule, and am a really hard worker knowing that with what I do...if I work really hard for about 5 years, I won't have to work hard for the rest of my life.
I am a committed Christian and am thankful every day for the lessons and blessings that the Lord brings.
As much as we try to live a "normal" life..we have a pretty crazy life style...working from home I have a deal with my husband (who works for our city that we live in)...that if he and I work together, I can run my business really hard right now so that we can enjoy the rest of our lives. With that comes the craziness...so my husband does the cooking, cleaning, laundry, and the night time routine with my girls. I am blessed to be able to take them to school, pick them up, volunteer in their classes every week and get to have a couple of hours with them after school every day. Our kids are our whole lives!
I am a complete mother bear...I don't trust ANYONE around my kids. I say ANYONE...but have to correct that, my mom has my girls as much as I do and I will let very select family members have my girls over night at their houses. Why? Because you can't trust anyone with your children. I know that we are to teach our children how to handle situations that they may be put in...and we do that. But I am also a firm believer that it is our job to NOT put them in those situations. Just yesterday we learned about VERY close friends of ours (they divorced and lived in separate houses) and the dad had a room mate for years and years...a friend of his from child hood and just found out that this "room mate" not only molested his own children but allegedly molested my friends two girls as well!! There were MANY times that the dad left the kids at home with this roommate by themselves.
So I am 100% committed to having the coolest house on the block so my kids will want to be home and all their friends will want to be here too...so far it's worked out pretty good. :)
I love blogging...I started in October of 2009 and just did it for an outlet...but have met so many amazing people, learned from so many others experiences...especially from identical twins and moms of identical twins. It's a complete network of moms and friends that I wouldn't have ever had otherwise.
I am excited to be a part of the blog party...and hope you hop on over to
5 Minutes for Mom
and take part in it too.
There are so many cool prizes to be won at this year's Ultimate Blog Party, but my top three picks would be:
Be My Guest Certificate ($250 value) for a two night stay in the

Hilton Garden Inn

By bloggin2noggin

USC17 - $200 gift certificate to Apple by

CmomGo
And if my top three picks are already chosen, I'd love any of the following (in order of preference):
7, 70, 112, 95, 49, 31, 32, 65, 105, 96, 111, 85, 67 ( or anything to do with little girls...as I have 7 year old identical twin girls.)