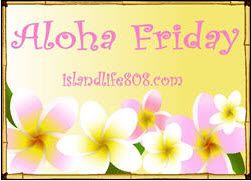 Welcome to this week's edition of Aloha Friday.
In Hawaii, Aloha Friday is the day that we take it easy and look forward to the weekend. So I thought that on Fridays I would take it easy on posting, too. Therefore, I'll ask a simple question for you to answer. Nothing that requires a lengthy response.
If you'd like to participate, just post your own question on your blog and leave your link over at
Island Life
. Don't forget to visit the other participants! It's a great way to make new bloggy friends!
This week's question is:
What one news item stood out to you the most in 2009 and why?
Mine was Michael Jackson dying...I was in Detroit, MI that weekend and was being trained by Donald Trump and it was interesting to here his take on Michael Jackson and his life and the death.

Don't forget to comment...Happy 2010!!!