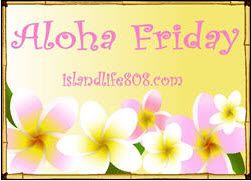 At
An Island Life
she has a fun Meme called Aloha Friday. Friday is the day that we are to take it easy and look forward to the weekend. So I thought that on Fridays I would take it easy on posting, too. Therefore, I'll ask a simple question for you to answer. Nothing that requires a lengthy response. You answer my ?. You can participate by adding a ? to your blog and linking up at An Island Life. Don't forget to visit the other blogs. Its a great way to meet new people and find great blogs to follow and get visitors and followers in return.
Do you have a Thanksgiving tradition for your family
My families tradition is probably like many others (which is why I am looking for new ones :) where at dinner time we go around the table and ask what everyone is thankful for. Don't get me wrong, I love this tradition, but feel like there are probably some others that are really neat that we could implement in our lives as well.
Thanks so much for commenting with your families tradition and have a very Happy Thanksgiving!