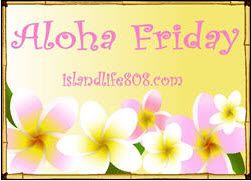 In Hawaii, Aloha Friday is the day that we take it easy and look forward to the weekend. So I thought that on Fridays I would take it easy on posting, too. Therefore, I'll ask a simple question for you to answer below as a comment. Nothing that requires a lengthy response. Click above button to get more info.

Here is my question this week:

What was your favorite parenting advice?
I actually have a couple of things that I live by and try to give as my parenting advice when asked.
Never EVER let your child think you are mad at them. For example, don't ever use he term, "Mommy is so angry, mad, upset or disappointed at you." You don't ever want your child to feel like you are mad at THEM. It's fine to be angry, mad, upset and/or disappointed at what they DID, but not at them. So you would let them know, "Mommy is upset at the choice that was made, not at you!" It's important that they know you would NEVER be mad at them and that they should never be mad at themselves!
Have them look in the mirror from a very young age...look right at themselve and tell themselves they love themself. For example..."I love you Kandi." to myself. It's hard for many adults to do this but the best gift we can give our kids...#1 is your relationship with your spouse #2 the gift for them to love themselves.

Epressing emotion...there are so many times that we tell our kids to stop crying, stop pouting, stop any kind of behavior that we feel is unnecessary. To express emotion is so healthy for them and they have to know that it's ok. It's actually good to talk to them about what they're feeling. Explain to them what that emotion is so they don't feel bad about themselves when they want to cry or be sad. What I tell my girls when they are crying whether its for a good reason or not..."Crying is really healthy, but I don't want to hear it so if you would like to cry you are welcome to do that in your bedroom." That way we are not trying to keep them from expressing emotions...just asking them to do it in their bedroom and when they are all done, they are welcome to join us again.

Never say Bad boy or Bad girl to them. Maybe what they did was bad but you don't ever want to make them feel bad about themselves.





Live in the now...when they have done something that has upset you...don't say you ALWAYS do this or you can't EVER do anything right. Talk about what happened that day... for example, "We had a rough morning today. You were not listening...let's work harder on that tomorrow." Or instead of, "You always talk horrible to me." Deal in the now..."I don't appreciate the way you were talking to me today." That way they don't feel like they are a lost cause...fixing one day is a lot easier than fixing something they ALWAYS do!





Whenever your child is doing something that is DRIVING YOU CRAZY...look in the mirror. They are mirror images of us. Sometimes they are doing things that we, ourselves don't even realize we do. There are many times that my girls do something that I wonder, where in the world did that come from? Most people would just think of it as a phase...I look in the mirror and figure out what I'm doing that is causing that behavior. They will duplicate what we do so don't expect to tell them not to do something that you do all the time. You have to be the example you want to set for your kids! An example of this...I have a friend whose daughter talks HORRIBLE to her. She is always just appalled at the way her daughter addresses and treats her. The problem is...she has never looked in the mirror to see how she talks to her daughter. From an outside view...the daughter is a spitting image of her mom and talks to and treats her mom the same way her mom treats her. If you want the behavior to change in your child...you have to first be willing to change it in yourself.





And last but not least for today...this is a tough one that I struggle with every day...NO EMOTION! If you can just practice no emotion when they come home and tell you something...just listen and don't offer your advice unless they are asking for it. As hard as that is, right then is not the appropriate time to get them in to a huge lecture. They'll never talk to you again. Be thankful that they are talking to you and just listen. If they want your advice...I promise they'll ask and then it will be welcome whatever you say. Or No Emotion when they do something that makes you angry. Again...hard to be but often times they are only doing it to get that rise out of you. If you didn't react and just dealt with the problem, you would find those times getting less and less.




I hope that one of this little things helped you in your #1 job in life...parenting! There is truly nothing more important that we could be good at than being good parents. We are responsible for what this world is going to become!

Have a great Friday!