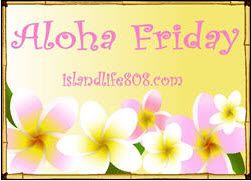 So, according to Kailani from
An Island Life
, Friday is the day in Hawaii where everyone takes it easy! So I will post a simple question, and you can leave an answer!
What are you or your kids going to be for Halloween?
My girls are going to be Thing 1 and Thing 2. I always want them to do something "twin related" and this is the 2nd thing they have done twin related. Last year one was Hannah Montana and one was Miley Cyrus. It actually worked out really well because one girl wanted to wear the wig and the other one didn't. So it didn't matter who was who, just as long as one was dressed up as her and one was dressed down.

For the Thing 1 and Thing 2 costumes, this was a little challenging. I thought these outfits were going to be so super simple that I would be able to find them easy. What I learned is that no one sells costumes of Thing 1 and Thing 2 anymore. So I started looking for the blue hair wigs early on. We ended up ordering those from The International Wig Co. online. The hair is perfect and was very reasonably priced.

Then I had to find the outfits...this is where the challenge was. I searched online for outfits specifically for Things 1 & 2 and there weren't any cute. I then proceeded to all the Halloween stores, party stores, etc. Mind you, I wasn't just looking for Thing 1 & 2 costumes, I was looking for any red costume that I could turn into Thing 1 & 2. My last stop was Target. I just started looking for the separates that I could put together to make the costume. I found red long sleave shirts, red sweatshirts, but no red sweats however I did find red leggings. I thought my poor little ladies were going to freeze to death. I had everything it was going to take to make the costumes and then I decided to look at the costumes in the Halloween section. By this time, I knew they weren't going to have specific Thing 1 & 2 costumes, but anything close with a red outfit could have a Thing 1 & 2 circle put on the front very easily. I finally found THE PERFECT outfits. They were intended to be little devils (which I would never allow my girls to be just for the record) and yet you wouldn't know they were devils if they didn't have all the extras (horns, tail, bow tie, etc.). They are fuzzy red long sleeve, long leg...kind of reminds me of a red Grinch costume without the puffy stomach! They were so awesome! The only challenge was that the stomach to this outfit is sequins. So no iron on.

I went to Wal-Mart over the next couple of days and picked up some iron on material (about a yard), then I got white fleece (about a half of a yard), I have an awesome picture of Thing 1 & 2 from the movie with Mike Meyers. I took a large plate, put it face down on the fleece and traced around it with a pencil. Cut out the fleece and followed what it looked like on the picture to write Thing 1. The first time I wrote Thing, I realized it was too small. Thankfully I got enough iron on to have a test piece. I turned the test piece around and did it again a lot larger...it was perfect. I then cut out another piece the exact same way and put it over the sample and traced it. Then did it with Thing 2 as well. That turned out really well because they match perfect since I traced the same one. Then I put the same large plate face down on the fleece and cut out two pieces of that. Took the iron on and the fleece to the ironing board and ironed it on.

Time to sew it on the outfit. I had the girls try on the red suits so I knew exactly where to put the Thing 1 circle...then I used white thread and just tacked it on (with them out of the suits, of course).

They turned out SO ADORABLE!!! I can't wait to post pictures. After Saturday, I will put pictures on...so keep an eye out!

Remember Thing 1 and Thing 2 do exactly the opposite of what you say...so Saturday is going to be interesting.

Happy Haunting!